5. RARE DISEASE SYMPOSIUM
Digitalization- chance or risk for the "rare"?
27.-28. February 2020, Berlin
Eva Luise and Horst Köhler foundation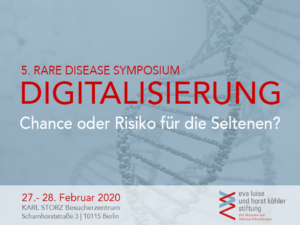 The 5. Symposium in the context of the Rare Disease Day 2020 took place on February 27. and 28. 2020 and focused on the topic digitalization in the health care system. Focus of many contributions and discussions was the digital acqusition of patient data and their cross linkage. This digital cross-linked health care system is supposed to enable a better understanding of foremost rare diseases. Furthermore it allows various scientists the access of all information.
This principle seems to be well suitable especially for rare diseases. Nevertheless, the risks of the digital acquisition of sensitive patient data have to be cautiously evaluated and examined. This topic was the center of attention during this year's symposium.
Prof. Angela Hübner (Projekt A04) was honored to give a talk about "Rare diseases"- How can we improve the structure for research and education across locations" and was able to introduce her programme about "Rare Important Syndromes in Endocrinology (RISE)" in front of among others Mrs. Eva Luise Köhler, Mr. Prof. Horst Köhler und Mrs. Prof. Grüters-Kieslich.
This programme focuses on the education of young medical scientists and raises their awareness about the treatment of rare endocrinological diseases. Furthermore it enables the scientists to focus in this context on their own research work for a given period of time. The best possible environment for scientific research work in the field of clinical endocrinology is given through close connection to the Collaborative Research Center TRR 205. It offers the perfect entrance for a successful career as a Clinician Scientist.
For more information about the 5. symposium: https://www.elhks.de/symposium2020/