Establishment of a non-invasive molecular imaging tool for aldosterone-producing tissue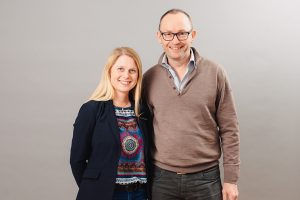 Prof. Dr. med. Stefanie Hahner
Hahner_S[at]ukw.de
Deputy Head of the Dept. of Endocrinology and Diabetology
Professor of Endocrinology (W2)
Department of Medicine I, Endocrinology and Diabetology
University Hospital Würzburg
Prof. Dr. med. Martin Reincke
martin.reincke(at)med.uni-muenchen.de
Department Director, Professor of Internal
Medizinische Klinik und Pliklinik IV
Klinikum der Ludwig-Maximilians-Universität Munich
Scientific Staff:
Britta Heinze – Postdoc
Magdalena Schneider – Postdoc
Andreas Schirbel – Postdoc
Project Description
Project B13 deals with the establishment of a non- invasive imaging tool for the differentiation between bilateral hyperplasia (BAH) and aldosterone producing adenomas (APA) in primary aldosteronism. The current goldstandard is bilateral adrenal venous sampling (AVS), which is an invasive procedure with several drawbacks. The project hypothesizes that molecular imaging of aldosterone synthase (CYP11B2) inhibitors would represent a highly promising non- invasive diagnostic tool, as increased expression of CYP11B2 is found in BAH and APA.
Working Plan
(I) Establish and optimise the chemistry and radiochemistry of further suitable aldosterone synthase CYP11B2 inhibitors.
(II) Identify novel compounds by in vitro characterisation.
(III) Evaluate the biological effects of new CYP11B2 inhibitors in a preclinical setting and analyse pharmacokinetics and suitability for imaging.