Steroid hormones and cancer immunity – learning from adrenocortical carcinoma
Principal Investigators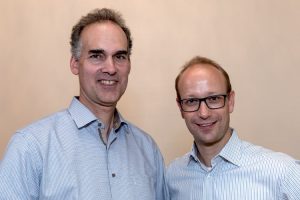 Prof. Dr. med. Martin Fassnacht
fassnacht_m[at]ukw.de
Department of Internal Medicine I, Endocrinology & Diabetology, University Hospital Würzburg
PD Dr. med. Dr. rer. nat. Matthias Kroiss
kroiss_m[at]ukw.de
Department of Internal Medicine I, Endocrinology & Diabetology, University Hospital Würzburg
Scientific Staff
Laura-Sophie Landwehr – PhD- student
landwehr_l[at]ukw.de
Silviu Sbiera – PhD- student
Tanja Anderlik, MD- student
Project Description
Project B16 deals with adrenocortical cancer (ACC), one of the most aggressive endocrine malignancies. It has already been identified that there are two subtypes: the "steroid hormone" and "immune" phenotypes. Connecting to this, we aim to characterize the molecular phenotypes and identify tumour- specific mutant antigens. We hypothesize that the steroid phenotype is associated with glucocorticoid- induced T-cell anergy, so we want to explore the effect of immune- checkpoint inhibitors, as a potential new therapeutic option.
Aims
(I) Comprehensively characterize the molecular phenotype of the steroid and immune
clusters of adrenocortical carcinoma (ACC).
(II) Identify and validate tumour-specific mutant antigens.
(III) Elucidate the crosstalk between adrenal steroids and ACC-infiltrating lymphocytes.
PhD/MD-Thesis
"Steroid Hormones and Cancer Immunity – learning from Adrenocortical Carcinoma"
Laura-Sophie Landwehr, PhD student, Oct. 2017 – Oct. 2020
"Modulation of the congenital immuneresponse in adrenal cancer"
Tanja Anderlik, MD- student