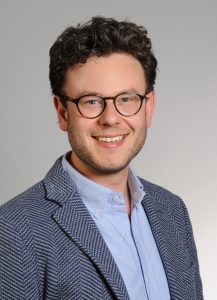 Dr. med. Daniel A. Heinrich
Universityhospital
Klinikum der Universität München
Medical Clinic and Policlinic IV
State examina: 2011, LMU München
Promotion: Gezielte molekulare Therapie des Mantelzelllymphoms: differentielle Regulierungsmuster der Anti-CD20-Antikörper Obinutuzumab und Rituximab. LMU München: Medizinische Fakultät, 2016
Research theme: Glukokortikoid-Cosekretion beim primären Hyperaldosteronismus
CRCTRR Projects: B13, B14, B15, B17, So2
Publications:
Radiation Exposure of Adrenal Vein Sampling – a German Multicenter Study.
Fuss CT, Treitl M, Rayes N, Podrabsky P, Fenske WK, Heinrich DA, Reincke M, Petersen TO, Fassnacht M, Quinkler M, Kickuth R, Hahner S.
Eur J Endocrinol. 2018 Aug 1. pii: EJE-18-0328. doi: 10.1530/EJE-18-0328. [Epub ahead of print]PMID:30068731
Computed Tomography and Adrenal Venous Sampling in the Diagnosis of Unilateral Primary Aldosteronism.
Williams TA, Burrello J, Sechi LA, Fardella CE, Matrozova J, Adolf C, Baudrand R, Bernardi S, Beuschlein F, Catena C, Doumas M, Fallo F, Giacchetti G, Heinrich DA, Saint-Hilary G, Jansen PM, Januszewicz A, Kocjan T, Nishikawa T, Quinkler M, Satoh F, Umakoshi H, Widimský J Jr, Hahner S, Douma S, Stowasser M, Mulatero P, Reincke M.
Hypertension. 2018 Jul 9. pii: HYPERTENSIONAHA.118.11382. doi: 10.1161/HYPERTENSIONAHA.118.11382. [Epub ahead of print] PMID:29987100
Primary aldosteronism: key characteristics at diagnosis: a trend toward milder forms.
Heinrich DA, Adolf C, Rump LC, Quack I, Quinkler M, Hahner S, Januszewicz A, Seufert J, Willenberg HS, Nirschl N, Sturm L, Beuschlein F, Reincke M.
Eur J Endocrinol. 2018 Jun;178(6):605-611. doi: 10.1530/EJE-17-0978. Epub 2018 Apr 10.
PMID: 29636356
IGF-1-based screening reveals a low prevalence of acromegaly in patients with obstructive sleep apnea.
Heinrich DA, Reinholz C, Bauer M, Tufman A, Frohner R, Schopohl J, Bidlingmaier M, Kosilek RP, Reincke M, Schneider HJ.
Endocrine. 2018 May;60(2):317-322. doi: 10.1007/s12020-018-1538-z. Epub 2018 Jan 31.
Differential regulation patterns of the anti-CD20 antibodies obinutuzumab and rituximab in mantle cell lymphoma.
Heinrich DA, Weinkauf M, Hutter G, Zimmermann Y, Jurinovic V, Hiddemann W, Dreyling M.
Br J Haematol. 2015 Feb;168(4):606-10. doi: 10.1111/bjh.13132. Epub 2014 Oct 8. No abstract available. PMID:25292485
Med Educ. 2013 May;47(5):516. doi: 10.1111/medu.12176.
An international medical curriculum: first steps of implementation.
Heinrich D, Wenzel M, Dimitriadis K, Mühlstädt M.
Awards:
2018: Deutsche Gesellschaft für Endokrinologie: Travel award
2013: Posterpreis der Gesellschaft für Medizinische Ausbildungsforschung