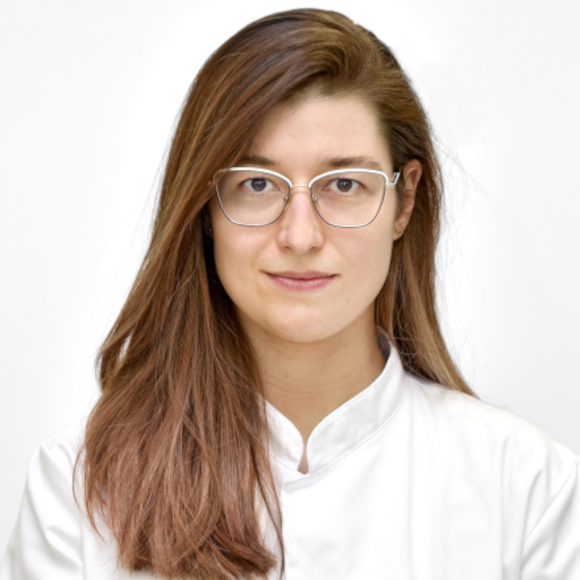 Irina Chifu
University Hospital of Würzburg, Lehrstuhl für Endokrinologie und Diabetologie, Medizinische Klinik 1
Research theme:
Adrenal insufficiency/PROSAI (A multicentre PROSpective study on Adrenal Insufficiency)
Abstract:
The main aim of the project was to initiate a national registry for adrenal insufficiency (AI) for the purpose of prospectively investigating the quality of the replacement therapy with gluco- and mineralocorticoids, incidence and causes of adrenal crises, comorbidities (especially cardiovascular risk), quality of life as well as establish a biobank. All patients with newly diagnosed primary AI or chronic AI regardless of its etiology are eligible for inclusion. Study visits accompany regular outpatients visits once a year and include:
– Laboratory explorations (incl. cortisol in 24-hour urine collection and salivary cortisol)
– Body examination (weight, height, BMI, waist-to-hip ratio, abdominal circumference, blood pressure)
– Collecting samples for biobank: blood (serum, whole blood, plasma), spot urine, 24-hour urine collection, hair sample (craniodorsal)
– EKG, echocardiography, ultrasound of the carotid arteries, 24-hour blood pressure measurements (every 2-3 years)
– QoL questionnaires (AddiQoL, SF-36, Epworth Sleepiness Scale, Female/Male Sexual Function Index, Multidimensional Fatigue Inventory, Patient Health Questionnaire-9, Pittsburgh Sleep Quality Index, Work Ability Index)
Over 200 patients have been included in PROSAI between 07/2019 and 01/2022 in Würzburg. A total of 4 main subprojects are currently running, focusing on the cardiovascular risk and possible associations with the replacement therapy.
1. Analysis of 24-hour blood pressure profiles in AI
2. Analysis of FKBP5 methylation level in AI
3. Analysis of the impact of polymorphisms of the glucocorticoid and mineralocorticoid receptors, HSD11B1/HSD11B2 enzymes and FKBP5 in AI
4. Analysis of the changes in the metabolome induced by standard administration of oral and parenteral hydrocortisone
Publications 2020-2022:
Chifu I, Hahner S. Nebennieren-Erkrankungen: Morbus Addison. Dtsch Med Wochenschr. 2022 Jan;147(3):98-106. doi: 10.1055/a-1370-5874.
Chifu I, Gerstl A, Lengenfelder B, Schmitt D, Nagler N, Fassnacht M, Weismann D. Treatment of symptomatic hyponatremia with hypertonic saline – a real-life observational study. Eur J Endocrinol. 2021 Feb 1:EJE-20-1207.R2. doi: 10.1530/EJE-20-1207. Epub ahead of print. PMID: 33635825.
Chifu I, Detomas M, Dischinger U, Kimpel O, Megerle F, Hahner S, Fassnacht M, Altieri B. Management of Patients With Glucocorticoid-Related Diseases and COVID-19. Front Endocrinol (Lausanne). 2021 Sep 14;12:705214. doi: 10.3389/fendo.2021.705214. PMID: 34594302.
Nowotny H, Ahmed SF, Bensing S, Beun JG, Brösamle M, Chifu I, Claahsen van der Grinten H, Clemente M, Falhammar H, Hahner S, Husebye E, Kristensen J, Loli P, Lajic S, Reisch N; Endo ERN (MTG1). Therapy options for adrenal insufficiency and recommendations for the management of adrenal crisis. Endocrine. 2021 Mar;71(3):586-594. doi: 10.1007/s12020-021-02649-6. Epub 2021 Mar 4. PMID: 33661460; PMCID:
Potasso L, Refardt J, Chifu I, Fassnacht M, Fenske WK, Christ-Crain M. Incidence of hyperkalemia during hypertonic saline test for the diagnosis of diabetes insipidus. Endocr Connect. 2021 Mar 1:EC-20-0531.R1. doi: 10.1530/EC-20-0531. Epub ahead of print. PMID: 33666570.
Sailer CO, Winzeler B, Urwyler SA, Schnyder I, Refardt J, Eckert A, Varghese N, Fassnacht M, Chifu I, Lawson EA, Verbalis JG, Fenske W, Christ-Crain M. Oxytocin levels in response to pituitary provocation tests in healthy volunteers. Eur J Endocrinol. 2021 Aug 3;185(3):355-364. doi: 10.1530/EJE-21-0346. PMID: 34181566.
Chifu I, Heinze B, Fuss CT, Lang K, Kroiss M, Kircher S, Ronchi CL, Altieri B, Schirbel A, Fassnacht M, Hahner S. Impact of the Chemokine Receptors CXCR4 and CXCR7 on Clinical Outcome in Adrenocortical Carcinoma. Front Endocrinol (Lausanne). 2020 Nov 13;11:597878. doi: 10.3389/fendo.2020.597878. PMID: 33281749.
Conference contributions 2020-2022:
Poster presentations:
24-Hour Blood Pressure (BP) Profile in Patients with Adrenal Insufficiency (AI)
64th German Congress of Endocrinology (E-Congress) 2021
European Congress of Endocrinology (E-Congress) 2021
ESE Young Endocrinologists and Scientists's annual meeting (EYES 2021, E-Congress)
24rd European Congress of Endocrinology in Milano 21-24 May 2022 "FKBP5 Methylation in Adrenal Insufficiency: Looking at a New Tool for Assessing the Quality of Glucocorticoid Replacement?"
Talk:
Joint Annual Meeting Applied Section Endocrinology (SAE) / German society for Applied Endocrinology (DGAE) 2021: PROSAI (presentation of the main project and of preliminary results, promoting recruitment of other endocrinology centers in Germany)
33. Birkensteiner Hormonkonferenz 10/2021 and Hypophysen-Symposium 11/2021: New diagnostic approaches to polyuria/polydipsia and presentation of ongoing studies in the field.
Awards 2020-2022:
Diurnal Early Career Investigator Award for the abstract entitled "24-Hour Blood Pressure Profile in Patients with Adrenal Insufficiency" (presented at the 23rd European Congress of Endocrinology eECE 2021)
Bruno Allolio Award of the German Society for Endocrinology (Bruno Allolio-Nebennieren-Preis der DGE) for the work entitled "Non-invasive assessment of tissue sodium content by 23Na-MRI in patients with primary adrenal insufficiency"
Diurnal Early Career Investigator Award 2022 for the abstract "FKBP5 Methylation in Adrenal Insufficiency: Looking at a New Tool for Assessing the Quality of Glucocorticoid Replacement?" at the European Congress of Endocrinology 21- 24 May 2022 in Milan