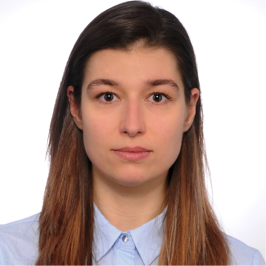 Irina Chifu
University Hospital of Würzburg
State exam: 2014, University Hospital "Gr. T. Popa" Iasi, Romania
Diploma thesis: "Outcome of Growth Hormone Replacement on Children with Growth Hormone Deficiency", Iasi, Romania, 2014.
Dissertation: "Chemokine Expression in Benign and Malignant Adrenal Tumors", University Hospital of Würzburg (in progress)
Research theme: Adrenal insufficiency
Registry for patients with chronic adrenal insufficiency: prospective and retrospective analysis of morbidity/comorbidities/mortality, adrenal crises, patient subpopulations and quality of life; establishing new parameters/algorithms to assess the quality of the replacement therapy and provide a personalized therapy
Assessment of tissue sodium content by 23Na-MRI in patients with primary adrenal insufficiency
Extent of liver fatty degeneration and liver fibrosis under replacement therapy with glucocorticoids in adrenal insufficiency (coordinated by University Hospital Frankfurt)
Publications:
Fenske W, Refardt J, Chifu I et al. A Copeptin-Based Approach in the Diagnosis of Diabetes Insipidus. N Engl J Med 2018; 379:428-439. doi: 10.1056/NEJMoa1803760
Refardt J, Sailer CO, Winzeler B, Betz MJ, Chifu I, Schnyder I, Fassnacht M, Fenske W, Christ-Crain M. FGF-21 levels in polyuria-polydipsia syndrome. Endocr Connect. 7(12):1501-1506. doi: 10.1530/EC-18-0469.
Awards:
2018: Poster prize of the DGE, 13. Deutsche Nebennierenkonferenz der Sektion Nebenniere, Steroide und Hypertonus 2018