Adjuvant radiosensitising therapy of metastatic chromaffin cell tumors targeting SDHB/HIF2a-related metabolism in combination with 177Lu-DOTATATE
Principal Investigators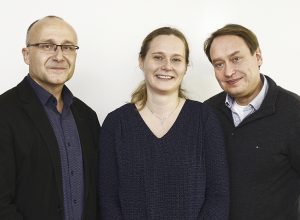 Dr. Susan Richter
susan.richter(at)uniklinikum-dresden.de
Division of Clinical Neurochemistry,
Institute of Clinical Chemistry & LaboratoryMedicine,
Carl Gustav Carus Faculty of Medicine at the Technische Universität Dresden

Prof. Dr. rer. medic. habil. Jens Pietzsch
j.pietzsch(at)hzdr.de
Head of Department, Professor of Pathobiochemistry
Helmholtz-Zentrum Dresden-Rossendorf (HZDR),
Institute of Radiopharmaceutical Cancer Research,
Department of Radiopharmaceutical and Chemical Biology Dresden
and Technische Universität Dresden (TUD)
Faculty of Natural Sciences Department of Chemistry and Food Chemistry

PD Dr. rer. nat. habil. Christian G. Ziegler
Christian.Ziegler(at)uniklinikum-dresden.de
Department of Internal Medicine,
Carl Gustav Carus Faculty of Medicine at the Technische Universität Dresden

Scientific Staff
Martin Ullrich – Postdoc
Christin Neuber – Postdoc
Markus Laube – Postdoc
Project Description
Project B10 aims to establish new therapeutic strategies for the treatment of metastatic phaeochromocytomas and paragangliomas (PPGL). PPGLs are rare hormone-producing tumours of the adrenal gland with no standard therapy available for metastatic disease. The latter are often caused by loss-of-function mutations in the succinate dehydrogenase B gene (SDHB) and are characterised by elevated expression of hypoxia inducible factor 2α (HIF2α). During the cause of the project, a mouse phaeochromocytoma cell line (MPC) will be genetically engineered to over-express HIF2α and inactivate SDHB. These models will then be used as tools for in vitro and in vivo drug testing. The aim will be to identify small molecule inhibitors that can be applied in combination with peptide receptor endoradiotherapy using 177Lu-DOTATATE to achieve radiosensitising effects and improve the outcome for patients in the future.
Adjuvant radiosensitising therapy of metastatic chromaffin cell tumours targeting SDHB/HIF2α-related metabolism in combination with 177Lu-DOTATATE

(I) Engineer and characterise a set of mouse phaeochromocytoma cell lines recapitulating human phaeochromocytomas and paragangliomas (PPGLs) with hypoxia inducible factor 2α (HIF2α) activation and succinate dehydrogenase (SDH) disruption.
(II) Develop allograft PPGL mouse models as a tool for evaluating drug candidates in vivo.
(III) Identify bifunctional chemo- and/or radiosensitising compounds for treatment of PPGL due to HIF2α activation and SDH disruption.

PhD/MD-Thesis
Metastatic phaeochromocytomas and paragangliomas: cell line models with hypoxia inducible factor 2α activation and succinate dehydrogenase disruption (Lisa Naumann, 2018 – 2021)
Evaluation of adjuvant radiosensitizing treatments in combination with 177Lu-DOTATATE in murine allograft models of metastatic pheochromocytomas and paragangliomas (Verena Seifert, 2017-2021)
Publications
Richter S, Gieldon L, Pang Y, Peitzsch M, Huynh T, Leton R, Viana B, Ercolino T, Mangelis A, Rapizzi E, Menschikowski M, Aust D, Kroiss M, Beuschlein F, Gudziol V, Timmers H, Lenders J, Mannelli M, Cascon A, Pacak K, Robledo M, Eisenhofer G, Klink B. Metabolome-guided genomics to identify mutations in isocitrate dehydrogenase, fumarate hydratase and succinate dehydrogenase genes in pheochromocytoma and paraganglioma. Genet. Med. accepted for publication 7 Jun 2018.
Ullrich M, Liers J, Bergmann R, Peitzsch M, Feldmann A, Sommer U, Richter S, Bornstein SR, Bachmann M, Eisenhofer G, Ziegler CG, Pietzsch J. Metastatic Spread of Mouse Pheochromocytoma Cells in Allograft Models Featuring Different Immunologic Phenotypes. Endocr. Relat. Cancer. preliminary acceptance 27 Jun 2018
Bechmann N, Ehrlich H, Eisenhofer G, Ehrlich A, Meschke S, Ziegler CG, Bornstein SR. Anti-Tumorigenic and Anti-Metastatic Activity of the Sponge-Derived Marine Drugs Aeroplysinin-1 and Isofistularin-3 against Pheochromocytoma In Vitro. Mar Drugs. 2018 May 20;16(5).