Molecular genetics and tumour progression in phaeochromocytoma and paraganglioma: towards personalised management
Principal Investigators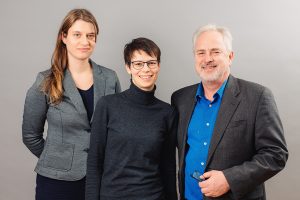 Prof. Dr. Graeme Eisenhofer

graeme.eisenhofer[at]uniklinikum-dresden.de

Department of Internal Medicine III & Institute for Clinical Chemistry and Laboratory Medicine,Endocrinology,
University Hospital Carl Gustav Carus Dresden,
Technische Universität Dresden

Prof. Dr. Jacques Lenders

jacques.lenders[at]radboudumc.de

Department of Internal Medicine III, Endocrinology,University Hospital Carl Gustav Carus Dresden, Technische Universität Dresden

Dr. med. Barbara Klink

barbara.klink[at]uniklinikum-dresden.de

Institute for Clinical Genetics, Faculty of Medicine Carl Gustav Carus, Technische Universität DresdenCore Unit for Molecular Tumor Diagnostics (CMTD), National Center for Tumor Diseases (NCT), DresdenLaboratoire National de Santé (LNS), Dudelange, Luxembourg
 
Scientific Staff
Dr. Nicole Bechmann
nicole.bechmann[at]uniklinikum-dresden.de
Institute for Clinical Chemistry and Laboratory Medicine,University Hospital Carl Gustav Carus Dresden,
Technische Universität Dresden

Project Description
Project B12 deals with the identification of novel biomarkers for assessment and prediction of the aggressiveness of phaeochromocytomas and paragangliomas (PPGLs). These rare, genetically heterogeneous tumors derived from the adrenal medulla are associated with variable disease aggressiveness. In previous studies we already designated novel PPGL-susceptibility pathways (e.g. HIF-MYC/MAX), and candidate genes. It can be assumed that the malignant progression of PPGLs is driven by genetic and epigenetic changes. We therefore plan to further characterise PPGLs using our well-phenotyped biobank and an intensive follow-up protocol on our PPGL patient cohort. The major goal of our project is the translation of our findings in molecular genetics and laboratory medicine into improved approaches for diagnostics, personalized patient management, and therapy.
Aims
(I) Comprehensively characterise genetic, epigenetic and metabolic changes in metastatic and multifocal cluster 1 PPGLs for identification of novel diagnostic and prognostic biomarkers of malignancy and disease progression.
(II) Functionally establish the biological relevance of the HIF-MYC/MAX pathway and novel markers of aggressive, recurrent, and malignant disease.
(III) Expand, further characterise, and follow-up our PPGL patient cohort by molecular and metabolic profiling, to assess disease aggressiveness and develop outcome-based approaches for personalised disease surveillance and management.
Publications
Richter S, Gieldon L, Pang Y, Peitzsch M, Huynh T, Leton R, Viana B, Ercolino T, Mangelis A, Rapizzi E, Menschikowski M, Aust D, Kroiss M, Beuschlein F, Gudziol V, Timmers H, Lenders J, Mannelli M, Cascon A, Pacak K, Robledo M, Eisenhofer G, Klink B. Metabolome-guided genomics to identify mutations in isocitrate dehydrogenase, fumarate hydratase and succinate dehydrogenase genes in pheochromocytoma and paraganglioma. Genet. Med. Accepted for publication 7 Jun 2018.
Bechmann N, Ehrlich H, Eisenhofer G, Ehrlich A, Meschke S, Ziegler CG, Bornstein SR. Anti-Tumorigenic and Anti-Metastatic Activity of the Sponge-Derived Marine Drugs Aeroplysinin-1 and Isofistularin-3 against Pheochromocytoma In Vitro. (2018) Marine Drugs. 16(5), 172.