Evaluation of the molecular pathogenesis of adrenocortical tumors by functional genomics
Principal Investigators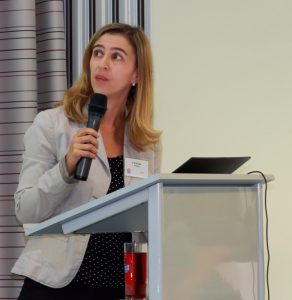 PD Dr. med.
Cristina L. Ronchi
Universitätsklinikum Würzburg
Clinic for Endocrinology and Diabetology
ronchi_c[at]ukw.de
Dr.
Sascha Sauer
Max-Delbrück-Centrum für Molekulare Medizin (MDC)
Head of Department for Genomics
sascha.sauer[at]mdc-berlin.de
Prof. Dr. med.
Martin Fassnacht
Universitätsklinikum Würzburg
Head of the Department of Internal Medicine I, Endocrinology & Diabetology,
fassnacht_m[at]ukw.de
Scientific Staff
Team at Universitätsklinikum and Universität Würzburg:
Dr. Barbara Altieri (DFG funded post-doc)
Dr. Panagiota Arampatzi (IZKF funded post-doc) – CUSM
Team at Max-Delbrück-Centrum:
Dr. Cornelius Fischer (MDC funded post-doc)
Mr Kerim Secener (DFG-funded PhD student)
Project Description
Adrenocortical tumors comprise benign adenomas and malignant carcinomas. Adrenocortical adenomas can be hormonally active or endocrinologically silent. On the other side, adrenocortical carcinoma is a rare cancer with poor prognosis and limited treatment options. Despite recent advances, the pathogenic mechanisms underlying autonomous steroid secretion and adrenocortical tumorigenesis still remain largely obscure. Using single nucleotide polymorphism (SNP) arrays and next generation exome-sequencing we have identified key alterations that could represent potential drivers for autonomous steroid secretion and early tumorigenesis. The aim is to identify relevant genomic variants and molecular alterations that may be involved in the pathogenesis. In the first part of the study, we will investigate adrenal samples, in which exome sequencing did not identify any "driver" mutation. We thereby aim to investigate so far unexplored genetic alterations and their causal link with changes in gene expression and clinical phenotype. In the second part, we will perform molecular analysis in both normal adrenal glands and adrenocortical tumors for the first time. This approach will allow investigating cellular subpopulations and intra-tumoral molecular heterogeneity to gain fundamental new insights. This will lead to a better understanding of autonomous steroid secretion and early adrenocortical tumorigenesis in order to facilitate in the future development of new therapeutic options.
Aims
(I) Work Package 1 (WP1). To obtain a combined genetic and molecular landscape of Adrenocortical Tumours (ACTs).

(II) Work Package 2 (WP2). To validate and characterize most relevant molecular events (identified in WP1) investigating large series of ACT samples and performing specifically designed in vitrofunctional experiments.

(III) Work Package 3 (WP3). To perform single-cell RNA-sequencing analysis in normal adrenal and ACT samples to investigate molecular events at single cell resolution level and gain knowledge in physiopathology of adrenal glands.

(IV) Work Package 4 (WP4). To carry out targeted single cell analysis of specific adrenal disease-related genes and proteins (identified in WP3).
Publications
Lippert J, Appenzeller S, Liang R, Sbiera S, Kircher S, Altieri B, Nanda I, Weigand I, Gehrig A, Steinhauer S, Riemens RJM, Rosenwald A, Mueller CR, Kroiss M, Rost S, Fassnacht M, Ronchi CL.
"Targeted molecular analysis in adrenocortical carcinomas: a strategy towards improved personalized prognostication."
J Clin Endocrinol Metab 2018; 103:4511-4523 (IF 6.3)
PhD/MD-Thesis
Mr Kerim Secener (DFG-funded PhD student) – Begin January 2019